Meet Me Tonight in Atlantic City (Hardcover)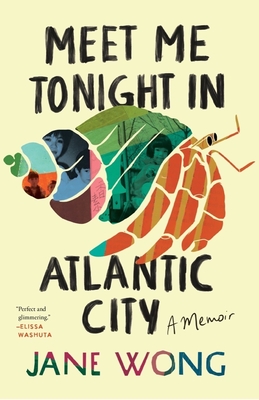 $27.95

Coming Soon - Available for Pre-Order Now
Description
---
A Rumpus and Ms. Magazine Most Anticipated Book of 2023

An incandescent, exquisitely written memoir about family, food, girlhood, resistance, and growing up in a Chinese American restaurant on the Jersey shore.



"I love the tenderness and ferocity of her prose, unsentimental and wrenching, that refuses easy triumph in its immigrant story and isn't afraid of uncovering both beauty and brutality." —Sally Wen Mao, author of Oculus
In the late 1980s on the Jersey shore, Jane Wong watches her mother shake ants from an MSG bin behind the family's Chinese restaurant. She is a hungry daughter frying crab rangoon for lunch, a child sneaking naps on bags of rice, a playful sister scheming to trap her brother in the freezer before he traps her first. She is part of a family staking their claim to the American dream, even as this dream crumbles. Beneath Atlantic City's promise lies her father's gambling addiction, an addiction that causes him to disappear for days and ultimately leads to the loss of the restaurant.
In her debut memoir, Wong tells a new story about Atlantic City, one that resists a single identity, a single story, as she writes about making do with what you have—and what you don't. What does it mean, she asks, to be both tender and angry? What is strength without vulnerability—and humor? Filled with beauty found in unexpected places,
Meet Me Tonight in Atlantic City
is a resounding love song of the Asian American working class, a portrait of how we become who we are, and a story of lyric wisdom to hold and to share.
About the Author
---
The author of How to Not Be Afraid of Everything and Overpour, Jane Wong is a Kundiman fellow and the recipient of fellowships and residencies from the U.S. Fulbright Program, the Fine Arts Work Center, Bread Loaf, and others. Her writing can be found in places such as The Best American Nonrequired Reading 2019, The Best American Poetry 2015, POETRY, McSweeney's, Ecotone, The Common, and more. An associate professor of creative writing at Western Washington University, she grew up on the New Jersey shore and currently lives in Seattle, Washington.

Praise For…
---
Explores the complexities of life and the dichotomies of emotion and experience that can occur within a single person.
— Ms. Magazine

Loaded with personality and originality. . . . lyric energy bursts from almost every sentence.
— Kirkus Reviews

My favorite aphorism about New Jersey is that only the strong survive it. I see that place here in all its chaotic splendor and that strength in the carving marks on each finely cut image. This is a perfect and glimmering book that could only have been forged in Jane Wong's bloody and beautiful heart.
— Elissa Washuta, author of White Magic

Searing, stunning, and singular.
— Kyle Lucia Wu, author of Win Me Something

To borrow Jane Wong's own words, there are sparks coming off Wong's blade of language. The spunky voice in this memoir shines through. I'm so grateful to Wong for telling her unique story in only the way she can, and in the process, expanding the possibilities of Asian American stories. There's so much heart in these stories that explore race, class, and family history, that we can't help but root for the protagonist. This is a big-hearted coming-of-age book that simultaneously asks hard questions.
— Victoria Chang, author of The Trees Witness Everything

Jane Wong, with her poet's eye for precise and delightful detail, carves out a quintessential story of family, gambling, loss, heartaches, toothaches, and above all, love. Meet Me Tonight in Atlantic City takes a father's addiction to the prismatic casinos of Atlantic City and places it against a mother's fierce, unsparing devotion and a daughter's struggle to make sense of loss. I love the tenderness and ferocity of her prose, unsentimental and wrenching, that refuses easy triumph in its immigrant story and isn't afraid of uncovering both beauty and brutality. Meet Me Tonight in Atlantic City is, at heart, a love story between Wong and her mother, Wong and herself.

— Sally Wen Mao, author of Oculus

I love a good memoir, and I'm looking forward to poet Jane Wong's Meet Me Tonight in Atlantic City, about growing up in a Chinese restaurant on the Jersey shore.

— Joanna Goddard - Cup of Jo