How We Named the Stars (Paperback)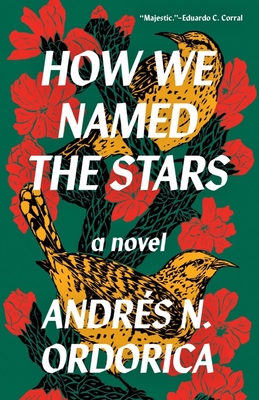 $17.95

Coming Soon - Available for Pre-Order Now
Description
---
"Majestic."—Eduardo C. Corral
"Radiant and deeply moving."—Christopher Castellani
Set between the United States and México, Andrés N. Ordorica's debut novel is a tender and lyrical exploration of belonging, grief, and first love—a love story for those so often written off the page.
When Daniel de La Luna arrives as a scholarship student at an elite East Coast university, he bears the weight of his family's hopes and dreams, and the burden of sharing his late uncle's name. Daniel flounders at first—but then Sam, his roommate, changes everything. As their relationship evolves from brotherly banter to something more intimate, Daniel soon finds himself in love with a man who helps him see himself in a new light. But just as their relationship takes flight, Daniel is pulled away, first by Sam's hesitation and then by a brutal turn of events that changes Daniel's life forever.
As he grapples with profound loss, Daniel finds himself in his family's ancestral homeland in México for the summer, finding joy in this setting even as he struggles to come to terms with what's happened and faces a host of new questions: How does the person he is connect with this place his family comes from? How is his own story connected to his late uncle's? And how might he reconcile the many parts of himself as he learns to move forward?
Equal parts tender and triumphant, Andrés N. Ordorica's How We Named the Stars is a debut novel of love, heartache, redemption, and learning to honor the dead; a story of finding the strength to figure out who you are—and who you could be—if only the world would let you.
About the Author
---
Andrés N. Ordorica is a queer Latinx poet, writer, and educator. Drawing on his family's immigrant history and his own third culture upbringing, his writing maps the journey of diaspora and unpacks what it means to be from ni de aquí, ni de allá (neither here, nor there). He is the author of the poetry collection At Least This I Know and currently resides in Edinburgh, Scotland.
Praise For…
---
Dazzling. . . .  a heartbreaking tale of a first-generation college student exploring his sexuality and roots while reckoning with grief. Ordorica portrays Daniel and Sam's encounters with tenderness and heat, and Daniel's aching and poignant narration. . . . is chock-full of wisdom.
— Publishers Weekly, Starred Review

Told with authenticity and compassion, this unconventional love story redefines notions of fraternity.
— Kirkus Reviews, Starred Review

Ordorica delves into love and loss in two places and two times to powerful effect.  
— Booklist

In Andrés N. Ordorica's majestic novel, the emotional and intellectual life of Daniel de La Luna, a first-generation college student, is rendered beautifully, deftly. Belonging, for Daniel, is complicated by familial grief and self-doubt but a heart-shattering first love spurs him to cross and to erase the borders between him and those who love him. I'm especially moved by his bond with his Abuelo, which is impactful, instructive. Novels this well-written remind us reading is an intimacy, an immersive experience that enriches us beyond measure.
— Eduardo C. Corral, author of Guillotine

In How We Named the Stars, Andrés N. Ordorica has crafted a radiant and deeply moving novel about the beauty and pain of love—for our partners, our families, and ourselves. An impressive emotional tour de force, and an extraordinary debut.


— Christopher Castellani, author of Leading Men

Love and loss, freedom and security, sex and identity— Andrés N. Ordorica's How We Named the Stars explores the desires and fears that live within us, that surface despite our attempts to tame or quiet them. In Ordorica's thoughtful prose, time becomes a character through which we come to learn the value of what can be gained when we allow ourselves to be vulnerable to our deepest longings. The story of Daniel and Sam will be with us for years to come.

— Eloisa Amezcua, author of Fighting Is Like a Wife

Andrés N. Ordorica has written an intimate, necessary story of first love, first loss, and the promise of new beginnings. This empowering novel is required reading for anyone struggling to uncover their most authentic self. 
— Zak Salih, author of Let's Get Back to the Party

How We Named the Stars is a novel of first love and last rites. Ordorica captures perfectly the challenges of building a life out of experience, out of allowing ourselves to feel everything. A beautiful tale of friendship and the comfort found in stories of the past and in the arms of elders, living and dead.

— Richard Mirabella, author of Brother & Sister Enter the Forest

Andrés N. Ordorica has captured the crushing isolation of navigating an elite college for the first time, all while experiencing a powerful, yet unattainable first love. Named after his family's late uncle, Daniel wrestles with the continued impact of loss even as he finds glimpses of comfort. This novel is an extended meditation on the relationship between joy and grief, and how it can bind and heal both a life and a family.
— Analicia Sotelo, author of Virgin