Survival of the Thickest: Essays (Paperback)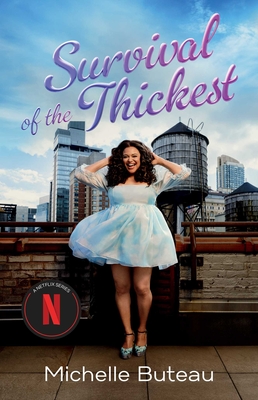 List Price: $17.99
Our Price: $16.99
(Save: $1.00 6%)
On Our Shelves Now - Click to see location, time, and stock details
Description
---
*Now a comedy series on Netflix!*
From the stand-up comedian, actress, and host beloved for her cheeky swagger, unique voice, and unapologetic frankness comes a book of "zesty and hilarious" (Publishers Weekly) essays for fans of Is Everyone Hanging Out Without Me by Mindy Kaling and We're Going to Need More Wine by Gabrielle Union.

If you've watched television or movies in the past couple of years, you've seen Michelle Buteau. With scene-stealing roles in Always Be My Maybe, First Wives Club, Someone Great, Russian Doll, and Tales of the City; a reality TV show and breakthrough stand-up specials, including her headlining show Welcome to Buteaupia on Netflix; and two podcasts (Late Night Whenever and Adulting), Michelle's star is on the rise. You'd be forgiven for thinking the road to success—or adulthood or financial stability or self-acceptance or marriage or motherhood—has been easy, but you'd be wrong.

Now, in Survival of the Thickest, Michelle reflects on growing up Caribbean, Catholic, and thick in New Jersey, going to college in Miami (where everyone smells like pineapple), her many friendship and dating disasters, working as a newsroom editor during 9/11, getting started in stand-up opening for male strippers, marrying into her husband's Dutch family, IVF and surrogacy, motherhood, chosen family, and what it feels like to have a full heart, tight jeans, and stardom finally in her grasp.
About the Author
---
Michelle Buteau is a comedian and actress, known for her roles in Always Be My Maybe, The First Wives Club, Someone Great, Russian Doll, and Tales of the City. She is also the host of The Circle and has stand-up specials—including the award-winning Welcome to Buteaupia—on Netflix and Comedy Central. She is the cohost of the podcast Adulting, and the executive producer, writer, and star of Survival of the Thickest on Netflix. She lives in the Bronx with her husband and twins. She and her husband also run Van der Most Modern, a vintage furniture store in Brooklyn.
Praise For…
---
"Michelle Buteau is one of the funniest people I've ever had the pleasure to meet in my entire life. Not since the ferocity I had at 12 years old elbowing fellow readers of Harry Potter & the Prisoner of Azkaban out of the way for my copy have I been as excited for a new title as I am for Michelle's book, Survival of The Thickest. But unlike J.K. Rowling, Michelle won't let us down because nobody's comedy or inclusion shines brighter than Michelle's!" —Jonathan Van Ness, hair dresser and star of the Netflix series Queer Eye

"If you think actress Buteau ("Russian Doll," "Tales of the City") is funny on-screen, wait until you see her on the page." —The Washington Post

"Michelle Buteau is one of the funniest comedians out there right now… A brilliant, uproarious memoir. This is the kind of read that shows us a woman who owns all that she is—her heartbreak, her humor, her struggle, her sexuality—and who makes other women want to do the same… Get ready to laugh out loud and feel like you've made a new friend. Pro tip: get the audio book to listen to Buteau narrate her life with her perfect and awe-inspiring delivery." —Shondaland

"Hilarious—like, snap-a-photo-of-a-page-and-send-it-to-friends funny. But this bracingly honest essay collection, in which Buteau insightfully reflects on everything from her body image to her interracial marriage to her difficult road to motherhood, is ultimately about the brave act of learning to love yourself." —Real Simple

"This hilarious, raunchy, tell-it-like-it-is collection of reminiscences and identity-searching tales by actress and stand-up star Michelle Buteau will entertain you and, perhaps, make you blush." —GoodMorningAmerica.com, "13 new books to get cozy with over the holidays"

"Known for her effortless delivery of laugh-out-loud stories, Michelle Buteau brings that same cheekiness and hilarity to her book. Warning, though, reading this may cause you to watch all of her comedy specials and every single movie and TV show she's ever been in in an alarmingly short period of time." —Cosmopolitan

"If you're a fan of Michelle Buteau's comedy, you know what you're getting: laugh out loud funny stories, moments of raw honesty and vulnerability that make you feel less alone, and the sense that you have a new best friend in your life. If you're new to 'Buteaupia' (as she likes to call it) aka the world of Michelle, you're in for a treat and will, no doubt, be a new fan by the time you finish reading Survival of the Thickest." —Phoebe Robinson, Founder of Tiny Reparations Books and author of You Can't Touch My Hair and Everything's Trash, But It's Okay

"In her debut essay collection, Michelle tackles everything from body image to babies and Blackness with the kind of hilarity and truth only she can deliver. If you're not lucky enough to have a sister friend like Michelle Buteau, Survival of the Thickest is the next best thing." —Franchesca Ramsey, host of MTV's Decoded and author of Well, That Escalated Quickly

"Michelle Buteau delivers a debut essay collection that'll have you cackling devilishly one minute, then ugly crying the next. Raw and heartbreaking… Buteau deftly moves from painful honesty to screwball comedy. Survival of the Thickest, like Michelle herself, is a real one." —Brandy Barber, Bust Magazine

"Buteau is known for being equally forthright and fabulous. In this collection of essays, she reveals the depths and origins of both… Her sharpness is suffused with a warmth that makes even her most esoteric stories—early stand-up misadventures and culture clashes with her Dutch in-laws—relatable and readable… A heartfelt, snarkily sweet memoir in essays." —Booklist

"Zesty and hilarious… Buteau's spot-on essays combine laughter with wise life lessons." —Publishers Weekly

"Unabashed, often bawdy… Buteau's knack for steering absurd situations toward warm insight shines… Discussions of being busty, curvy, and light-skinned abound with self-empowerment… At turns joyful and sweet about her marriage's early days and heartbreaking about miscarriages, Buteau is reassuring in her candor." —Kirkus

"Buteau showcases her humor, perseverance, and honesty… [and she] tells each tale with style and wit… Inviting and unbelievably hilarious… Fans of Ali Wong or Mindy Kaling will appreciate this heartbreaking and hopeful volume." —Library Journal

"Make room on your 'funny lady memoir' bookshelf, because comedian Michelle Buteau has landed... A hilarious and heartfelt memoir." —HelloGiggles

"One of the year's most relatable books." —Bustle

"Buteau has a charisma that makes you remember who she is… Genuinely funny." —Black Girl Nerds

"The hilarious comedian and actor Michelle Buteau will have you rolling and reflecting with her candid and empowering lessons on work, marriage, motherhood, body image, and Blackness. Truthful, willful and hopeful, this is a heartwarming debut collection." —Ms. Magazine

"Survival of the Thickest reads like a long conversation with a very smart and funny friend… A delight, from start to finish, and a nice introduction to a woman who has been in the game for a long time and is more than ready for her time in the sun." —Megan Reynolds, Jezebel

"Survival of the Thickest offers more of the humor and frankness that has made Buteau a fan favorite: If you enjoyed any of Mindy Kaling's essay collections, then I highly suggest reading this one. It is as laugh-out-loud funny as the author herself." —Bitch Media

"In her collection of stories, Michelle Buteau shares her honest and hilarious takes on everything from body image to getting started in standup comedy to being in an interracial marriage." —E! Online's roundup for Women's History Month, "Books by Boss Ladies We Love"