Split Decision: Life Stories (Hardcover)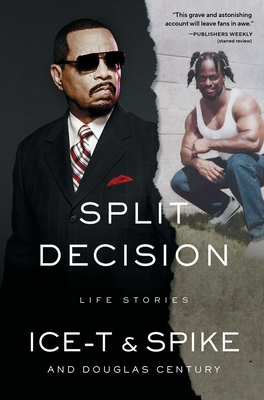 $28.99

On Our Shelves Now - Click to see location, time, and stock details
Staff Reviews
---
Whether you know Tracy Marrow as Detective Fin Tutola on Law & Order, Masked Dancer "Disco Ball," costar of the reality tv show Ice Loves Coco, or simply as OG rapper Ice-T, one thing is for sure, he's a damn entertaining storyteller. Not unlike "The Other Wes Moore," Split Decision is best described as a tale of "there but for the grace of god go I." With precise detail and eerie revelations, this memoir shows the path Ice-T took from a life of crime on the gang laden streets of LA to fame and fortune while showing the parallel path his friend Spike took down into oblivion. Recommended for anyone who likes a gritty memoir and a glimpse into the real world of a larger-than-life Hollywood star.
— Gene
Description
---
Award-winning actor, rapper, and producer Ice-T unveils a compelling memoir of his early life robbing jewelry stores until he found fame and fortune—while a handful of bad choices sent his former crime partner down an incredibly different path.

Ice-T rose to fame in the late 1980s, earning acclaim for his music before going on to enthrall television audiences as Odafin "Fin" Tutuola in Law & Order: Special Victims Unit. But it could have gone much differently.

In this "poignant and powerful" (Library Journal, starred review) memoir, Ice-T and Spike, his former crime partner—collaborating with New York Times bestselling author Douglas Century—relate the shocking stories of their shared pasts, and how just a handful of decisions led to their incredibly different lives. Both grew up in violent, gang-controlled Los Angeles neighborhoods and worked together to orchestrate a series of jewelry heists.

But while Ice-T was discovered rapping in a club and got his first record deal, Spike was caught for a jewelry robbery and did three years in prison. As his music career began to take off, Ice made the decision to abandon the criminal life; Spike continued to plan increasingly ingenious and risky jewel heists. And in 1992, after one of Spike's robberies ended tragically, he was sentenced to thirty-five years to life. While he sat behind bars, he watched his former partner rise to fame in music, movies, and television.

"Propulsive" (Publishers Weekly, starred review), timely, and thoughtful, two men with two very different lives reveal how their paths might have very well been reversed if they made different choices. All it took was a split decision.
About the Author
---
Ice-T is an award-winning rapper, actor, songwriter and producer. He released a string of groundbreaking rap albums in the 1980s and then formed the Grammy Award–winning metal band Body Count with high school friend and guitarist Ernie C. He has appeared in numerous films, including New Jack City, Ricochet, and Trespass. In his role as Detective Tutuola on NBC's Law & Order: Special Victims Unit, Ice holds the distinction of being the longest running male actor on any primetime drama in history. Through his music and lecture tours, Ice-T has become an influential spokesman for America's youth. Follow him on Twitter @FinalLevel.

Spike, born in Los Angeles in 1962, first met Ice-T in the early 1980s and was an original member of Ice's Rhyme Syndicate. He currently resides in LA and devotes much of his time to leading outreach programs aimed at at-risk youth.

Douglas Century is the author and coauthor of numerous bestsellers including Under and Alone, Hunting El Chapo, and Takedown: The Fall of the Last Mafia Empire, a finalist for the 2003 Edgar Award in the category of Best Fact Crime. A veteran investigative journalist, Century last collaborated with Ice-T on the acclaimed Ice: A Memoir of Gangster Life—From South Central to Hollywood.
Praise For…
---
"A propulsive chronicle...This grave and astonishing account will leave fans in awe."—Publishers Weekly (starred review)

"Poignant and powerful, this work will resonate with a wide audience."—Library Journal (starred review)

"An astounding and provocative tale….A powerful memoir of diverging lives."—Booklist

"This well-crafted memoir is a bracing reminder of how a few choices can separate success from a troubled life." —Kirkus Reviews

"Split Decision is a thrilling read. It's also a reminder that our choices determine the type of person we can become, but we also have the ability to change. No one deserves a permanent label if they're willing to put in the work." —Spin Magazine