The Nickel Boys: A Novel (CD-Audio)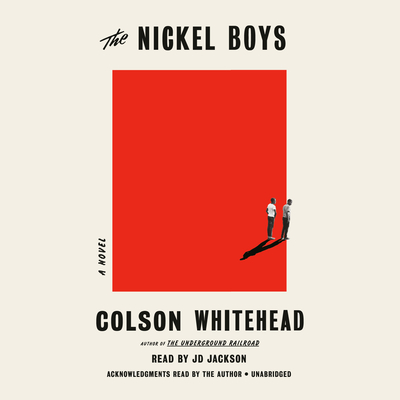 Staff Reviews
---
An instant classic.The writing is so smooth and plainspoken that it transports you to a different time and place, a place both familiar and completely alien. What is truly magical about the book is that it seems devoid of time, or more accurately of a time period. Although it mostly takes place in the past, the characters and scenes are so fresh and present that you feel part of the virtual landscape. A coming of age story and a history lesson all rolled into one, the characters and their experiences are sure to stay with you for a long time to come.
— Gene
August 2019 Indie Next List
---
"With every book, Colson Whitehead proves his ever-growing genius. He's a master of the written word and truly one of the greatest living American novelists of our time. I didn't think it was possible for him to write something better than Underground Railroad, but he most certainly has — The Nickel Boys grabbed me at page one. It's a mystery and a thriller, a treatise on race and social injustice, and a literary masterpiece all rolled into one. Ellwood and Turner are characters that will stay with me forever. This should be mandatory reading in every classroom."
— Michelle Malonzo, Changing Hands, Tempe, AZ
Description
---
NEW YORK TIMES BESTSELLER

NATIONAL BOOK CRITICS CIRCLE AWARD FINALIST

ONE OF TIME MAGAZINE'S 10 BEST FICTION BOOKS OF THE DECADE

WINNER OF THE KIRKUS PRIZE

LONGLISTED FOR THE NATIONAL BOOK AWARD

In this bravura follow-up to the Pulitzer Prize, and National Book Award-winning #1 New York Times bestseller The Underground Railroad, Colson Whitehead brilliantly dramatizes another strand of American history through the story of two boys sentenced to a hellish reform school in Jim Crow-era Florida.

As the Civil Rights movement begins to reach the black enclave of Frenchtown in segregated Tallahassee, Elwood Curtis takes the words of Dr. Martin Luther King to heart: He is "as good as anyone." Abandoned by his parents, but kept on the straight and narrow by his grandmother, Elwood is about to enroll in the local black college. But for a black boy in the Jim Crow South of the early 1960s, one innocent mistake is enough to destroy the future. Elwood is sentenced to a juvenile reformatory called the Nickel Academy, whose mission statement says it provides "physical, intellectual and moral training" so the delinquent boys in their charge can become "honorable and honest men."
In reality, the Nickel Academy is a grotesque chamber of horrors where the sadistic staff beats and sexually abuses the students, corrupt officials and locals steal food and supplies, and any boy who resists is likely to disappear "out back." Stunned to find himself in such a vicious environment, Elwood tries to hold onto Dr. King's ringing assertion "Throw us in jail and we will still love you." His friend Turner thinks Elwood is worse than naive, that the world is crooked, and that the only way to survive is to scheme and avoid trouble.
The tension between Elwood's ideals and Turner's skepticism leads to a decision whose repercussions will echo down the decades. Formed in the crucible of the evils Jim Crow wrought, the boys' fates will be determined by what they endured at the Nickel Academy.
Based on the real story of a reform school in Florida that operated for one hundred and eleven years and warped the lives of thousands of children, The Nickel Boys is a devastating, driven narrative that showcases a great American novelist writing at the height of his powers.
About the Author
---
Colson Whitehead is the author of nine books of fiction and non-fiction, including The Underground Railroad, which was a #1 New York Times bestseller and won the Pulitzer Prize and the National Book Award. A recipient of MacArthur and Guggenheim Fellowships, he lives in New York City.
Praise For…
---
New York Times Bestseller

Winner of The Kirkus Prize

Chosen by Publishers Weekly as one of the 10 Best Books of the Year

Longlisted for The National Book Award 

"A necessary read." —President Barack Obama

"This is a powerful book by one of America's great writers. . . . Without sentimentality, in as intense and finely crafted a book as you'll ever read, Whitehead tells a story of American history that won't allow you to see the country in the same way again." —Toronto Star

"Colson Whitehead continues to make a classic American genre his own. . . . The narration is disciplined and the sentences plain and sturdy, oars cutting into water. Every chapter hits its marks. . . . Whitehead comports himself with gravity and care, the steward of painful, suppressed histories; his choices on the page can feel as much ethical as aesthetic. The ordinary language, the clear pane of his prose, lets the stories speak for themselves. . . . Whitehead has written novels of horror and apocalypse; nothing touches the grimness of the real stories he conveys here" —The New York Times

"Inspired by a real school in Florida, The Nickel Boys is a haunting narrative that reinforces Whitehead's prowess as a leading voice in American literature." —TIME

"[The Nickel Boys] should further cement Whitehead as one of his generation's best." —Entertainment Weekly 

"Were Whitehead's only aim to shine an unforgiving light on a redacted chapter of racial terrorism in the American chronicle, that would be achievement enough. What he is doing in his new novel, as in its immediate predecessor, is more challenging than that. . . . He applies a master storyteller's muscle. . . . The elasticity of time in The Nickel Boys feels so organic that only when you put the book down do you fully appreciate that its sweep encompasses much of the last century as well as this one. . . . A writer like Whitehead, who challenges the complacent assumption that we even fathom what happened in our past, has rarely seemed more essential." —The New York Times Book Review

"A masterpiece squared, rooted in history and American mythology and, yet, painfully topical in its visions of justice and mercy erratically denied . . . a great American novel."  —Maureen Corrigan, NPR.org

"Whitehead's brilliant examination of America's history of violence is a stunning novel of impeccable language and startling insight." —Publishers Weekly, starred review

"Whitehead's magnetic characters exemplify stoicism and courage, and each supremely craftedscene smolders and flares with injustice and resistance, building to a staggering revelation. Inspired by an actual school, Whitehead's potently concentrated drama pinpoints the brutality and insidiousness of Jim Crow racism with compassion and protest. . . . A scorching work." —Booklist, starred review

"[A] stunning new novel. . . . The understated beauty of his writing, combined with the disquieting subject matter, creates a kind of dissonance that chills the reader. Whitehead has long had a gift for crafting unforgettable characters, and Elwood proves to be one of his best. . . . The final pages of the book are a heartbreaking distillation of the story that preceded them; it's a perfect ending to a perfect novel. The Nickel Boys is a beautiful, wrenching act of witness, a painful remembrance of an 'infinite brotherhood of broken boys,' and it proves beyond a shadow of a doubt that Whitehead is one of the most gifted novelists in America today." —NPR

"Magnificent. . . . Whitehead's prose is meticulous; he nimbly shifts between the 1960s and present day, creating a fully fleshed-out picture of violence and (in)justice." —Buzzfeed

"Colson Whitehead's follow-up to The Underground Railroad is devastating and powerful, a harrowing novelization on another dark aspect of American history. . . . Never didactic, but always illuminating—even in those darkest of places in our collective story—The Nickel Boys is a brilliant, horrifying look into the legacy of Jim Crow, and the ways in which racism and oppression don't exist in defiance to the American Dream, but rather as its fuel." —NYLON

"[The Nickel Boys's] dialogue, the efficient character sketches and the unobtrusive but always-advancing plot are evidence of mature ability . . . spry and animated and seamed with dark humor . . . [with] a dazzling final twist that Mr. Whitehead stages with such casual skill that one only begins to unpack its meanings well after the book has ended. . . . The excellence of The Nickel Boys carries an added feeling of hope because it's evidence of a gradual, old-fashioned artistic progression that fewer and fewer writers are allowed the time to pursue. . . . The Nickel Boys demonstrate the versatile gifts of a writer who is rounding into mastery. The impression left is that Mr. Whitehead can succeed at any kind of book he takes on. He has made himself one of the finest novelists in America." —The Wall Street Journal

"Whitehead's new novel . . . is in many ways a continuation of his reassessment of African American history. But The Nickel Boys is no mere sequel . . . it's a surprisingly different kind of novel. . . . Whitehead reveals the clandestine atrocities of Nickel Academy with just enough restraint to keep us in a state of wincing dread. . . . It shreds our easy confidence in the triumph of goodness and leaves in its place a hard and bitter truth about the ongoing American experiment." —The Washington Post

"Again [Whitehead is] wrestling with American history's reverberations. . . . Since its moral concern is multigenerational anguish, the sense of mourning in The Nickel Boys is subvisceral—not detached, but restrained. . . . We are called to remember, 'The past is never dead. It's not even past.'" —O: The Oprah Magazine

"Possibly the single most anticipated novel of the year." —Los Angeles Times

"A powerful meditation on suffering and injustice. . . . His subject could not be more demanding, but Whitehead's writing is spare and stately. He handles Elwood's and Turner's suffering—and questions—gently. And he holds the reader carefully. . . . For the darkest of tales, that is the most a writer can do." —Winnipeg Free Press

"Whitehead's signature knack for creating unforgettable characters and spinning compelling stories out of even the darkest places is on display once again—and while it's not always an easy story to read, we'd venture to say it's essential." —Town and Country

"If you thought Colson Whitehead's Pulitzer Prize-winning novel The Underground Railroad was a tour de force, wait until you get your hands on The Nickel Boys." —Harper's Bazaar

"The Nickel Boys is straight-ahead realism, distinguished by its clarity and its open conversation with other black writers: It quotes from or evokes the work of Langston Hughes, James Baldwin, Ralph Ellison and more. Whitehead has made an overt bid to stand in their company—to write a novel that's memorable, and teachable, for years to come. The Nickel Boys is its fulfilment." —USA Today

"The Nickel Boys is a strictly realist work, albeit still ripe with Whitehead's signature deadpan wit. . . . The heart of The Nickel Boys is this extended dialogue between Elwood and Turner . . . [and] often feels like Whitehead's conversation with both the idealistic forerunners of the civil rights generation and, by implication, the woke youth of today. Like perhaps his single greatest influence, Ralph Ellison, Whitehead negotiates a tightrope walk between the need to depict the experience of race and racism and a stubborn individualistic resistance to the claims of collective identity." —Slate

"[Whitehead's] prose here is elegant yet straightforward . . . these short sentences spur the action on, creating a pace that's almost as breath-taking as the novel's depiction of cruelty. . . . Whitehead's novel is certainly revelatory, but more for the ways in which it traces these atrocities to the past and present, weaving tragedy into multiple lifetimes. The Nickel Boys isn't just a testament to systemic racism; it's an archaeology of pain." —A.V. Club

"[The Nickel Boys is] a marvellous play between the real situation and a novelistic artifice—one which, in the end, proves to be inherent in the human story. . . . This is a heartbreakingly good novel. Its excellence doesn't lie in the attitude it takes to a social problem. . . . Rather, this is a book which should last because of the elegant refinement of its treatment, and the harmonious and deeply affecting balance it strikes between real-life conditions, and the requirements of the finest and most penetrating art." —The Spectator

"[A] remarkable novel." —Roxane Gay, bestselling author of Bad Feminist

"A gripping and brilliant novel based on a true story about a boys' reformatory school in Florida in the 1960s. Whitehead is one of the most daring and gifted authors writing these days, and I will never miss one of his books."—Elizabeth Gilbert, author of City of Girls

"[Whitehead] is a splendidly talented writer, with more range than any other American novelist currently working—he can be funny, lyrical, satirical, earnest—whatever is needed by the work." —George Saunders, author of Lincoln in the Bardo,