PJ Storytime with Yesenia Moises for STELLA'S STELLAR HAIR
Submitted by booksellers on Wed, 12/16/2020 - 5:09pm
We are thrilled to have Yesenia Moises join us for PJ Storytime on Instagram Live for her wonderful picture book Stella's Stellar Hair! This event is free to attend and will be held digitally via Loyalty's Instagram account. You can order the book below. PJ's are optional. ;-)
ABOUT THE BOOK
Black girl magic takes the solar system in Stella's Stellar Hair, a celebration of hair, family, and self-love from debut author-illustrator Yesenia Moises!

It's the day of the Big Star Little Gala, and Stella's hair just isn't acting right! What's a girl to do?

Simple! Just hop on her hoverboard, visit each of her fabulous aunties across the solar system, and find the perfect hairdo along the way.

Stella's Stellar Hair celebrates the joy of self-empowerment, shows off our solar system, and beautifully illustrates a variety of hairstyles from the African diaspora. Backmatter provides more information about each style and each planet.
ABOUT THE AUTHOR
Yesenia Moises is an Afro-Latina illustrator and designer with a specialty in product design. Her work proudly portrays people of diverse backgrounds playing leading roles in fantasy adventures that are brimming with color. Yesenia is the author-illustrator of Stella's Stellar Hair and the illustrator of Honeysmoke: A Story of Finding Your Color.
Please note Loyalty has a zero tolerance policy for harassment or intimidation of any kind during this virtual event.
Event date:
Monday, March 22, 2021 - 6:00pm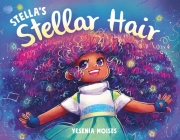 Available to order- email info@loyaltybookstores.com
ISBN: 9781250261779
Availability: Not In Store - Available to Special Order
Published: Imprint - January 5th, 2021
---